Biographical Information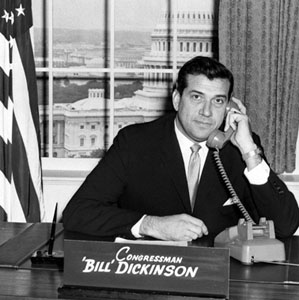 William Louis Dickinson was born in Opelika, Alabama on June 25, 1925. After graduating from Opelika public schools, Dickinson enlisted in the Navy, serving from 1943-1946 and then joining the Air Force Reserves.
He attended the University of Alabama Law School where he graduated in 1950 and was admitted to the bar that same year. Dickinson returned to Opelika to practice law until 1952 when he became an Opelika city judge. In 1954, Dickinson became judge of Lee County Court of Common Pleas and of Juvenile Court, then left that position in 1958 to become a judge for the Fifth Judicial Circuit of Alabama
He served as a member of Opelika Board of Education from 1954-1962, serving as its President in 1961. Dickinson was also a co-founder and member of the Board of Directors of the Lee County Rehabilitation Center, serving from 1960-1962, and a member of Governor's Industrial Development Committee of One Hundred in 1963. Dickinson left the Circuit Court bench in 1962 and moved to Montgomery to accept the position of Assistant Vice President of the Southern Railway System.
In 1964, Dickinson was elected as a Republican to the U.S. House of Representatives for the Second District of Alabama. Dickinson also was a delegate to the State Republican conventions in 1964, 1966, 1968, and 1970. In 1968 he served as delegate to the Republican National Convention.
During his thirteen consecutive terms in Congress, Dickinson was a strong advocate for national defense. He was a member of the House Armed Services Committee for most of his time in Congress. The House Armed Services Committee is responsible for funding and oversight of Department of Defense and the United States armed services. Dickinson actively supported military funding and legislation aimed primarily at halting the spread of communism around the world, particularly in Vietnam and the former U.S.S.R..
As a Representative for Alabama, Dickinson supported legislation aimed at improving economic conditions for the state. This included road and highway construction projects and securing funds for Alabama's military bases. One particular project where Dickinson played an integral part was the construction of the Perdido Pass deep-sea wall. This project helped preserve the waterways around Perdido Key for fisherman and local residents from erosion caused by an earlier Federal project which deepened the waterways in that area. Dickinson also went to great lengths to intervene on behalf of his constituents in local, state, and Federal issues.
Dickinson retired from Congress in 1992 and continued to live in Montgomery. He passed away on March 31, 2008.
Scope and Contents
Congressman Dickinson's collection consist of records from 1964 until his retirement in 1993. The materials are in the form of: memos, correspondence between Dickinson and other legislators both inside and outside of Alabama; correspondence between Dickinson and his constituent reflecting their opinions on social, political, and economic issues; background information and copies of legislative acts he sponsored; constituent case files; photographs; video recordings of speeches; press releases from his local and national offices; opinion surveys, and news clippings.
Please note that not all of Congressman Dickinson's papers are available for research. We are working to add research-ready collections online. Files from other years not currently listed online may be available for research. Contact the Archives & Special Collections staff for further information.
List of Inventories and Finding Aids
Arrangement of the Collection
The most common arrangement of the collection is an alpha-numeric filing system used by Dickinson's staff over the years. It consists of the following series titles:
SERIES 1. ADMINISTRATION

SERIES 2. AGRICULTURE, DEPARTMENT OF

SERIES 3. AGENCIES, INDEPENDENT

SERIES 4. ALABAMA , STATE OF

SERIES 5. ASSOCIATIONS AND COMMITTEES

SERIES 6. COMMERCE, DEPARTMENT OF

SERIES 7. CONGRESS

SERIES 8. DEFENSE, DEPARTMENT OF

SERIES 9. PERSONAL FILES

SERIES 10. EMPLOYMENT

SERIES 11. HEALTH, EDUCATION, AND WELFARE, DEPARTMENT OF

SERIES 12. HOUSING AND URBAN DEVELOPMENT, DEPARTMENT OF

SERIES 13. INTERIOR, DEPARTMENT OF

SERIES 14. JUSTICE, DEPARTMENT OF

SERIES 15. LABOR, DEPARTMENT OF

SERIES 16. LEGISLATION

SERIES 17. POLITICAL

SERIES 18. POST OFFICE, DEPARTMENT OF

SERIES 19. STATE , DEPARTMENT OF

SERIES 20. TRANSPORTATION, DEPARTMENT OF

SERIES 21. TREASURY, DEPARTMENT OF

SERIES 22. VETERANS' ADMINISTRATION

SERIES 23. WHITE HOUSE
Offices or agencies whose administration fall under one of these departments are given letters (A, B, C, etc.) based on alphabetical order.