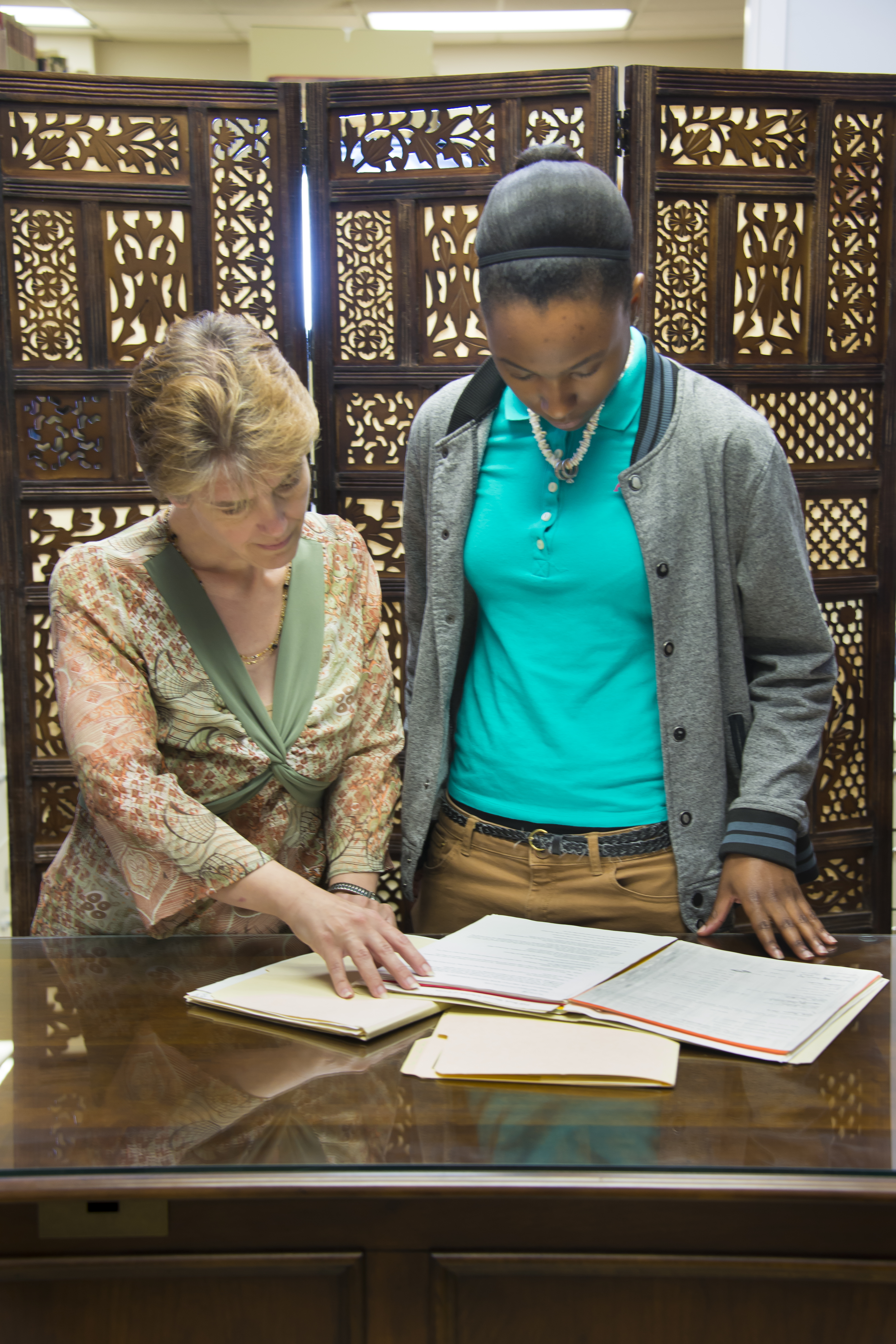 Contact
Phone: 334-244-3213
Email: archives@aum.edu
Introduction & Mission
The Archives and Special Collections unit is located on the 8th floor of the AUM Library Tower. It serves the University by collecting and preserving records of historical importance. The records of approximately twenty university offices are housed in the Archives. Also included are unbound theses prepared by university students.
The Special Collections component focuses upon acquiring books, manuscripts, photographs, audiovisual materials, and architectural drawings focusing upon specific subject areas. Among the areas in which the unit collects are: Alabama history, literature and politics; Montgomery, Autauga and Elmore County (Alabama) histories; the Civil War; Southern Women's Literature; Southern Prose and Poetry; and Southern Genealogy.
Access Policies and Services
Using the Collections
The Archives & Special Collections unit has created finding aids for its manuscript collections to assist researchers. These are available for those collections that have been processed and are ready for research use. While the majority of our rare and unique books are listed in the AUM Library Online Catalog, we are working to provide information through our web site on archival collections. Please contact Samantha McNeilly for more information.
Please note that our holdings do not circulate and may not leave the Archives & Special Collections unit unless accompanied by a staff member.
Upon arrival, all researchers will be required to:
Register with the Archives & Special Collections staff. We reserve the right to request identification from researchers in the form of an AUM Identification Card, a Drivers License, or a valid passport.
Check all non-essential belongings (including coats, bags, purses, backpacks, briefcases, computer carrying cases, etc.) with staff for security purposes.
Reading Room Rules
No food or drink will be permitted.
The use of pens is not allowed. Pencils will be provided upon request.
Please keep materials in the order in which they were processed. If the researcher feels something has been misplaced or is missing, consult with the staff immediately. We will be happy to assist in returning an item to its proper place.
Please handle archival materials with care. Do not lean on, fold, fasten with paper clips other than those included with the collection, or write on or over materials. Do not use Post-It-Notes or the like on archival materials.
Other Restrictions
For use of the official records of University offices, the researcher will be required to secure written permission for the examination of these records from the officials in charge of the department. This includes blueprints and architectural drawings of AUM buildings and facilities.
Records which are closed by state and/or federal law for the protection of individual privacy will not be made available to researchers during the period of closure.
Access to manuscript collections that are being processed will be restricted in order to preserve both its original order and the integrity of the collection.
Access to manuscript collections, or portions of collections to which access is restricted by the request of the donor, will not be made available to researchers for the time period stipulated by the donor.
Unbound copies of theses are held in the Archives & Special Collections for preservation purposes only. Circulation copies of theses given to the Library are available.
Duplication Services
Archives & Special Collections preserves and makes available to researchers many kinds of original materials. The formats of our holdings include manuscripts, rare books, photographs, slides, architectural drawings, maps, audiotapes, videotapes, and microfiche. Because of size, fragility, and/or copyright restrictions, we reserve the right to refuse duplication of some materials.

Photocopying
Photocopying of Archives & Special Collections Material may only be performed by Archives staff. Materials reproduced for our users will be stamped with a copyright notice signifying that the user assumes responsibility for compliance with U.S. Copyright law (see Title 17 of the U.S. Code). Photo duplication requests are limited to a maximum of 200 pages per 30-day period. The charge is 10 cents per page. If photocopies must be mailed, prepayment for the photocopies and for postage and handling is required. A & SC charges $5.00 for postage and handling.
Scanning
Archives & Special Collections charges a $5.00 fee per image scanned. Requested images may be sent via e-mail for no additional charge, or can be placed on a CD-ROM for an additional $2.00 fee.
Printing of images will be done by the University Relations office with an average turn around time of five working days. Click here to see University Relation's prices for image duplication.
Other Forms of Duplication
Audiotapes, videotapes, architectural drawings, and other large items must be taken to a professional copying company capable of duplicating such materials. In addition to the company's copying charges, Archives & Special Collections adds a $25.00 fee for transporting the materials to and from the copying company. If any of these materials must be mailed to the researcher, there is a minimum $5.00 mailing charge for postage and handling.
Finding Aids & Research Guides